Montreal is a great place to visit. This bilingual city has a lot to offer: old world charm, a real culture hub, green spaces and great food. You can easily spend a whole week in this city to discover everything it has to offer. But if you're only planning one weekend in Montreal, we'll help you find the city's iconic landmarks and some hidden gems you wouldn't necessarily know about from the conventional travel books.
What to visit in Montreal?
Depending on what you're after (historical monuments, restaurants, shopping), you can focus on some of the best neighborhoods in Montreal. Mount Royal, The Plateau, The Mile End, Downtown and Old Montreal are a must-see! Your weekend in Montreal won't be boring!
Climb on the Mount Royal
This is a classic thing to do for a weekend in Montreal, but you won't regret it. Le Mont Royal consists of three peaks: Colline de la Croix, Tiohtià:ke Otsira'kéhne (Mohawk for "the place of the big fire") and the Westmount summit. It's not a huge mountain so you can easily walk it even if you're wearing sandals. Pretty much every major city in the world has at least one big green space to escape from the busy city. There are various ways to get there, you can get there from Outremont, Westmount, Downtown and Le Plateau.
Once you find a path, just stroll through the tree-filled paths up to the lookout for a gorgeous view of the city. Try to walk on a nice day so you can see across the St Lawrence River. If you're really motivated (or still out after a night out of partying), get there for the sunrise for a serene wake up. You can then walk down and go to Beaver Lake to soak up some sun near the artificial basin. You can bring a picnic, barbecue your food (in the summertime they have grills). From there you can easily go to the Saint-Joseph's Oratory or more towards Saint-Laurent street or Le Plateau!
Visit The Plateau & The Mile End
These two neighborhoods are more artsy, laid-back and less commercial than other Montreal areas.
Le Plateau
Le Plateau is usually bordered by Park Avenue, Hutchinson and University street (to the west), Sherbrooke Street (to the south), the Canadian Pacific railway tracks to the north-east. The borough is known for its bohemian reputation and beautiful architecture. Walk down streets like the Mont-Royal Avenue, Rachel Street, and St-Denis (between Sherbrooke and Laurier) which all have great restaurants and boutiques. Be aware that according to Montreal stereotypes, this neighbourhood is full of French people…
Where to eat in Le Plateau?
L'Avenue (eggs benedict heaven with Instagram worthy bathrooms);
Ma Poule Mouillée (Portuguese chicken lunch spot);
La Fontaine Park (gorgeous park for a picnic);
The Lab bar (inventive and artisanal cocktails in an intimate setting);
Au Pied de Cochon (high-end restaurant, one of Montreal's best!);
Névé coffee shop (third wave coffee shop with pastries and small snacks);
Hof Kelsten (delicious bakery with fresh breads and pastries);
Billie Boutique (trendy clothes);
Tri Express (fresh sushi);
Rhubarbe pastries shop (tasty pastries with a French flare).
The Mile End
The Mile End has some very multicultural roots and has now become one of the coolest and artsy neighbourhoods in the city. Most of the shops and restaurants are found on Saint-Laurent Boulevard, Fairmount Avenue, St-Viateur Street and Bernard Street.
Where to eat in the Mile End?
Typical Jewish Deli lunch spot at Wilensky's;
Fairmount Bagels & St-Viateur Bagels (taste both to see which you prefer!);
Butterblume (delicious and fresh brunch and lunch spot);
Guillaume bakery (fresh sweet and savoury breads and pastries);
Café Olympico (old-school Italian coffee spot with excellent lattes and espressos);
Waverly bar (low key spot for late night drinks);
Where to shop in the Mile End?
Frank & Oak (cool clothing store for men and women);
Annex Vintage (vintage clothing with quirky accessories);
Vestibule (art of the table boutique);
Maguire boutique (shoe and accessory boutique).
Explore Old Montreal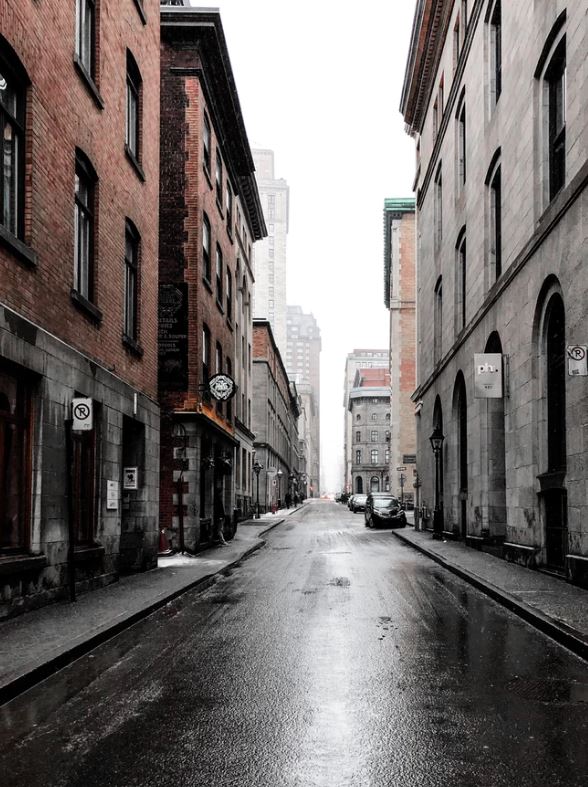 Why go all the way to Europe when you can visit charming Old Montreal? Old Montreal will transport you to the streets of Paris in a heartbeat. This is the oldest part of the city and borders the St Lawrence River. Some of the buildings date back to the 17th century. During your weekend in Montreal, walk through the cobblestone filled streets and look up at the beautiful European-inspired architecture. Even though it's the most touristic area in Montreal, you can find some true gems. Here are some of our favourites:
Notre-Dame Basilica (Gothic Revival style Basilica);
St-Paul Street (pedestrian street filled with shops and restaurants);
Crew Collective & Cafe (gorgeous coffee shop in an old bank, even if you don't like coffee, go in just to see the architecture);
Olive & gourmando (scrumptious breakfast and lunch place with fresh food);
Bota Bota spa (an old ferry boat turned into a spa on the Saint-Lawrence River);
Toqué (named best restaurant in Canada a few times, very expensive but a once in a lifetime experience);
Mandy's (perfect lunch spot, mainly salads);
SSENSE (high-end clothing store with internationally known brands);
William Gray Hotel (Rooftop terrasse with some of the best views in town);
Venice Mtl (California inspired restaurant with fresh food).
Bike through Notre-Dame O. Street
This mostly anglophone area crosses some of the most interesting neighbourhoods in Montreal. This East to West street crosses Old Montreal, Griffintown, Little Burgundy and Saint-Henri. Since we've already talked about Old Montreal, we will concentrate our energy on the three other neighbourhoods. Griffintown, Little Burgundy and Saint-Henri all used to be industrial and working-class areas. They transformed into an artsy, creative and hip place to be. Since these three neighbourhoods border the Lachine Canal, there are bike paths and green spaces to escape the city sites. Griffintown, Little Burgundy and Saint-Henri brim with shops and restaurants that are very trendy and popular. Here are some of our favourite spots:
Atwater Market (food market and small eateries);
Joe Beef (one of the best restaurants in all of Montreal);
Lachine Canal (a great place for a stroll or to have a picnic);
Arthur's Nosh (breakfast and lunch spot with typical Jewish food);
Vin Papillon (the little sister of Joe Beef, this restaurant is more centered on vegetables);
Foxy (great restaurant with a fun atmosphere);
Patrice Pâtissier (some of the best pastries in Montreal);
Terrasse St-Ambroise (great spot for local beers);
Ludovik Boutique (home accessories and furniture store);
La Bête à Pain (scrumptious breads and pastries).
Shop in Downtown Montreal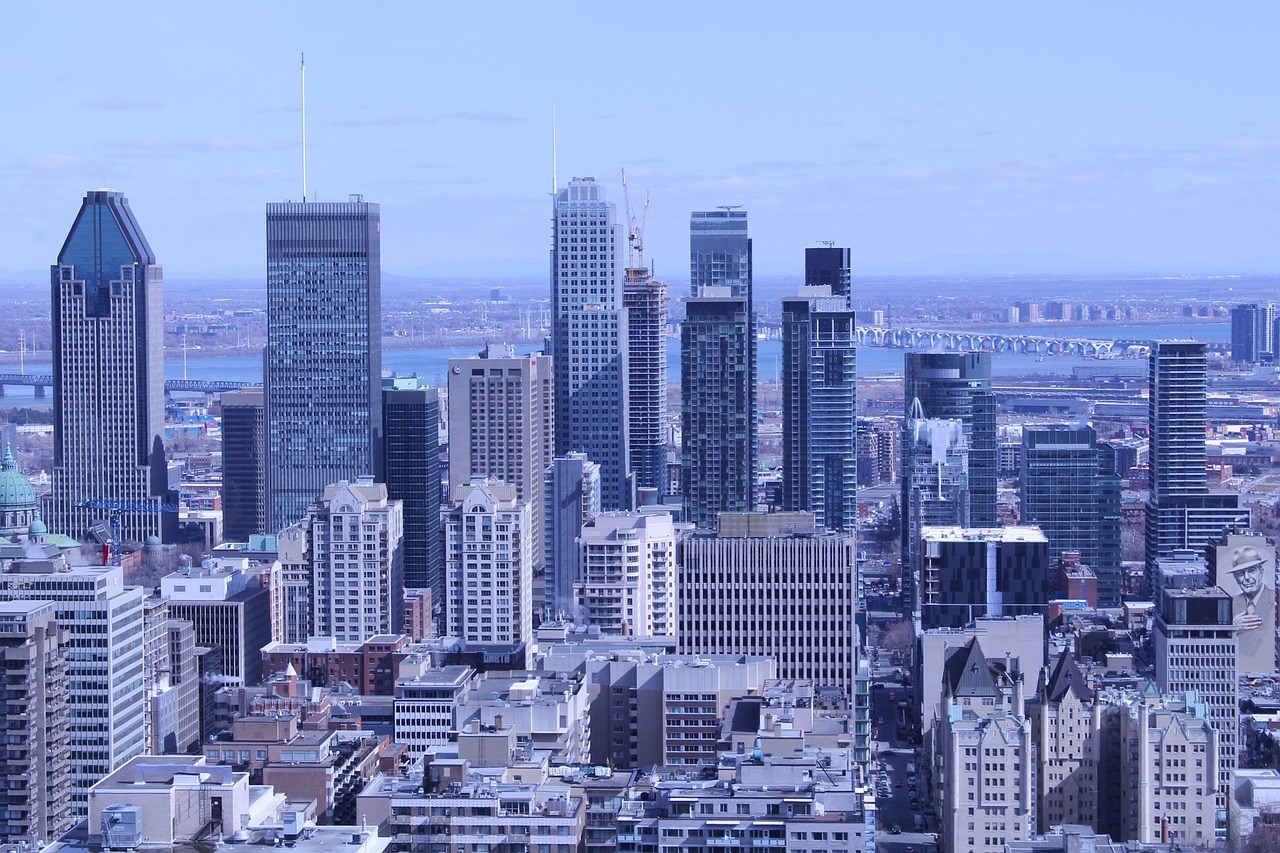 Montreal's downtown area is vibrant, multicultural and full of hidden gems. The area goes from Saint-Antoine Street to the South, St-Hubert street to the East, Sherbrooke to the North and Guy to the West. It's a nice place to explore during your weekend in Montreal.
Where to go in Montreal's downtown?
Holt Renfrew (luxury department store);
Aritzia (Canadian brand with trendy pieces);
Simons (Canadian owned store with fashionable clothes);
LOV (Vegan restaurant with a lovely decor);
Montreal Museum of Fine Arts (Montreal's museum of fine arts);
Cloakroom Bar (intimate bar with custom drinks);
Escondite (great mexican food);
Café Myriade (location in Club Monaco on Ste-Catherine street, beautiful cafe);
Bar George (gorgeous restaurant and hotel from the 1880s);
Capital tacos (laidback eatery for delicious tacos).
If you need more advices about what to visit in Québec, here are our articles about what to visit during a weekend in Québec City, and what to do in Tadoussac.
Which part of the city would you visit first during a weekend in Montreal?