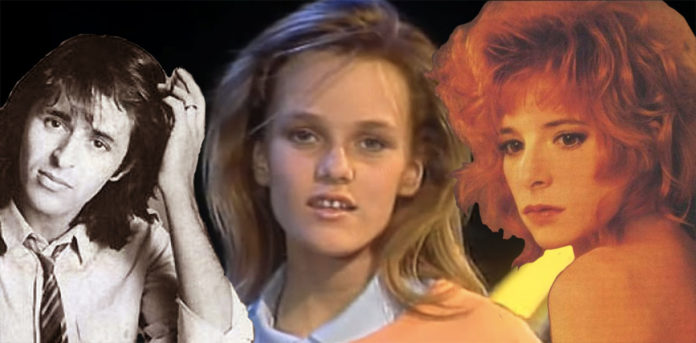 Are you nostalgic about the 80s? Between disco, rock'n'roll and the beginning of the dance music, it was rich. From time to time, we like to listen to these hits again. Let's dive back in with 16 of the most popular French songs from the 1980s.
That's some good material to create a 1980s playlist!
"Le Banana Split", Lio (1980)
Have you noticed that this song has double entendre lyrics about oral sex? Yes, the lyrics have a double meaning. And it's even weirder when you realize Lio was only 16 years old when she recorded the song. It was her first song and is considered like her signature song.
"Être une femme", Michel Sardou (1981)
This song was quite controversial when it was released, and it still is. Michel Sardou comments on the new roles of women and how they do "men's jobs" while being sexy. In 2010, he decided to release an updated version with different lyrics, saying that women might regret having the same rights or jobs than men. Obviously, this song was even more problematic. But nowadays, people only remember the catchy music.
"La Danse des Canards", J.J Lionel (1981)
You might already know this song, since it's well known all around the world… In Great Britain, it's called Birdie Song, and in the United States, you know it as Chicken Dance. Originally, the song was composed by accordion player Werner Thomas from Switzerland in the 1950s. But it gained popularity in 1981, when it was recorded by the Belgian singer J.J Lionel. La Danse des Canards (which can be annoying) has many different versions. What's your favorite?
Can we say that many popular French songs from the 1980s are pretty funny?
"Chacun fait (c'qui lui plaît)", Chagrin d'amour (1982)
Considered like the first rap song in French, Chacun fait (c'qui lui plaît) is a classic French song. Most people know the main chorus, but have you seen the video clip, directed as a short film? This song was so popular that many singers revived it in their own version.
"Quand la musique est bonne", Jean-Jacques Goldman (1983)
This song is the first single of Jean-Jacques Goldman's second studio album. At that time, he wasn't sure he could earn enough money as a singer, so he kept working in a sports shop. Obviously, with Quand la musique est bonne, Au bout de mes rêves and Comme toi, Jean-Jacques Goldman gained popularity and became the famous songwriter we know.
"Chante", Les Forbans (1983)
In the 1970s, it was all about disco music. So when the French band Les Forbans released their rockabilly songs in the 80s, people were excited to see a rock 'n' roll comeback.
"Besoin de rien, envie de toi", Peter et Sloane (1984)
Funny story: when this song was first released, it was on the Face B of a single called Ma vie avec toi, ta vie avec moi. But this song wasn't really popular, while the Europe 1 radio was broadcasting Besoin de rien, envie de toi. So, the label decided to release the single again, but with Besoin de rien, envie de toi as the main song!
"Je te donne", Jean-Jacques Goldman & Michael Jones (1985)
You might not know this, but Jean-Jacques Goldman and Michael Jones met in the 70s, when Michael Jones replaced the French singer in the band Taï Phong, for their musical tours. Jean-Jacques Goldman was thinking about leaving the band because he wanted to sing in French and not in English. A few years later, he released Je Te Donne, which is a bilingual French-English song!
We can say without a doubt that Jean-Jacques Goldman is to thank for some of the most popular French songs from the 1980s and 1990s.
"L'Aziza", Daniel Balavoine (1986)
In this song, Balavoine denounces racism by paying tribute to his Jewish Moroccan wife Corinne. L'Aziza was released in October 1985, but gained popularity after the tragic death of the singer in January 1986.
"En rouge et noir", Jeanne Mas (1986)
With her black outfits, intense makeup and almost aggressive dancing, Jeanne Mas was easily recognisable. She knew what she wanted and after a few successes, felt comfortable enough to refuse some songs, like Ouragan (which was later sung by Stéphanie de Monaco). When she chose to record En rouge et noir, she chose well! This musical hit is considered her signature song.
"Les Démons de minuit", Images (1986)
Like many musical hits, Les Démons de Minuit wasn't seen as a potential success. The band had trouble finding a record company to sign a contract with them, because nobody believed in the potential of the song. But during the summer of 1986, it reached #1 and stayed there for 13 weeks. It was one of the most popular French songs from the 1980s and it still is a go-to in many 80s parties.
"T'en va pas", Elsa (1987)
In 1986 was released the film La femme de ma vie, directed by Régis Wargnier and starring Jane Birkin. In this movie, Elsa Lunghini was playing Jane Birkin's daughter and played piano for a scene. With the help of her father, Elsa recorded the main song of the movie, T'en va pas. It was a huge hit and exported itself across Europe with an English recording, Papa, Please Don't Go. At the time, Elsa was the youngest singer to reach #1 on the charts.
"Joe le Taxi", Vanessa Paradis (1987)
In your opinion, is Vanessa Paradis most famous for her singing career or for her movie career? Because it all started with this song… After recording her first single, La Magie des surprises-parties, in 1983, Vanessa Paradis released Joe le Taxi in 1987 and became internationally famous. Indeed, the song reached the top five in the United Kingdom, Ireland and Norway and the top ten in Germany and Sweden.
"Nuit de folie", Début de soirée (1988)
Even though the song was composed in 1984 (inspired by You're My Love, You're My Life, by Patty Ryan), it passed unnoticed at the time. It finally became a summer hit in 1988! It even got a remix in 1995.
If you want to have some laugh, you can hear the parody version from Les Inconnus, or the unexpected cover from a Korean singer.
"Pourvu qu'elles soient douces", Mylène Farmer (1988)
After the success of Ainsi soit-je…, Mylène Farmer chose Pourvu qu'elles soient douces as the third single from her second studio album. And since the lyrics are daring with some sexual references, she decided to make a provocative video clip. At the time, it was the most expensive and longest music video clip ever made. Do you feel like most of the French songs from the 1980s were sexy and daring?
"Coeur de loup", Philippe Lafontaine (1989)
Philippe Lafontaine is a Belgian songwriter and singer. Coeur de loup was first released in 1978 on a 45-rpm disc, but it went unnoticed. It was only when his second single was released, in 1989 (first in Belgium and then in France) that the song was noticed and became a hit.
What do you think about these popular French songs from the 1980s? Did you know some of these songs? Maybe you're more into French songs from the 1990s… or the best songs from the 2000s.