Travelling to Québec City from Montreal takes approximately two hours and a half by car from Montreal (without any traffic, of course!) and it is really worth it to visit this smaller city that is rich in history and patriotic pride. The city is more than 400 years old (they celebrated the anniversary in 2008). It was first "discovered" in 1608 by Jacques Cartier and his fellow French explorers and it is one of the oldest European settlement in all of North America. The city has come a long way since its humble beginnings. It is now a cultural hub and has some internationally renowned festivals and attractions for all ages. Whether you're visiting this city for a long weekend or passing through on your way to other cities in the province, be sure to visit at least these 10 sights!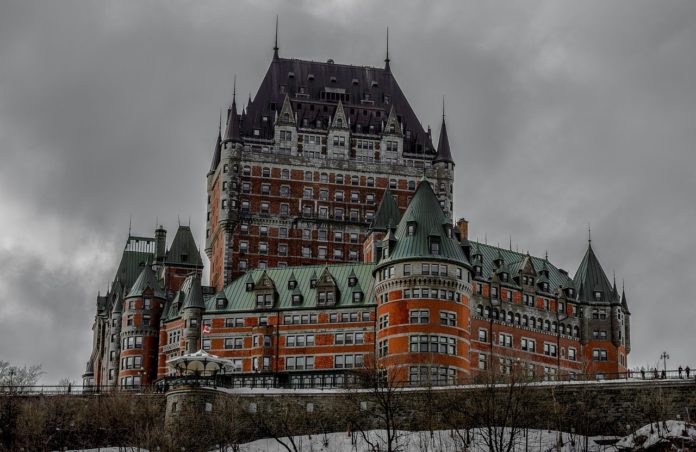 The Château Frontenac is a gorgeous hotel located right on the St Lawrence River. Before the hotel was built, the site used to be the location of the Château Haldimand, the residence of British governors for over 200 years. Interestingly enough, the hotel is the most photographed hotel in the world according to the Guinness World Record. The hotel first opened in 1893 and has now more than 600 rooms (611 rooms to be exact). Famous people like Leonardo DiCaprio, Grace Kelly, Paul McCartney, Queen Elizabeth, Angelina Jolie have stayed in this stunning hotel!
This park is a 15-minute walk from the Château Frontenac and also borders the river. This is a very important part of Québec's history. The 1759 Battle of the Plains of Abraham was part of the Seven Year War between Europe's most influential countries. The park is about 2.4 km long and while you walk, there are monuments that commemorate various historical figures from Québec's history. If you want to relax or have a nice picnic, this is a great place to soak up the sun and enjoy imagining how the battle evolved.
3
Musée National des Beaux-Arts du Québec
After you've walked in the park, you'll hit the Musée National des Beaux-Arts du Québec. This museum has around 25,000 works of art, which are mostly from Québec artists. The museum was founded in 1933 and has three pavilions. Their exhibits are always interesting. If you visit Québec City in the fall or wintertime, get out of the cold and enjoy some local works of art. You don't even have to go outside to go from one pavilion to the next since they are all linked by an underground tunnel so you never have to go out in the cold.