Are you planning to visit Quebec soon? Sure, you have to go to Montréal and stroll in the streets of Québec City. But you also have to visit Tadoussac, a great place to enjoy nature, marine life, good food and great people. Here is a quick guide to enjoy Tadoussac and its surroundings.
If you really want to enjoy all the activities available in Tadoussac, you should visit the town between May and September.
What to Do in Tadoussac?
Whale Watching in Tadoussac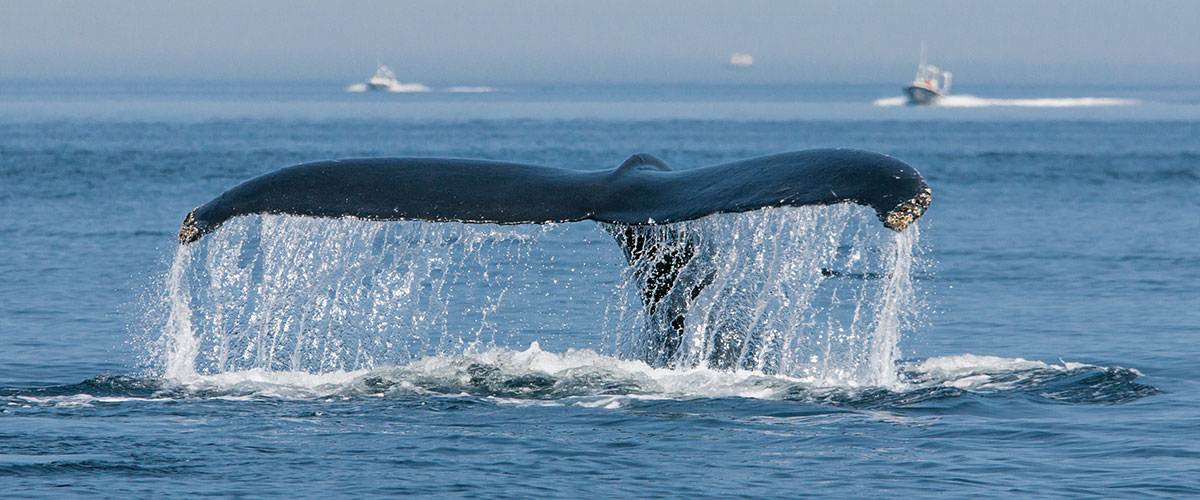 Most of the people who are going to Tadoussac want to see some whales. Tadoussac is an internationally renowned whale-watching site, so it would be a shame not to try it. Even if whales are more active around September, whale watching can also be done from mid-May to mid-October.
There are many ways to enjoy whale watching : you can choose a zodiac cruise, a catamaran cruise, or even better, use a sea kayak ! It's the most environmentally friendly option for whale watching, since it doesn't scare or disturb them.
Sand Dunes
If you like walking, you will enjoy the long beaches along the St Lawrence River. It's a good way to enjoy the nature surrounding you, while watching the whales from afar. And if you walk long enough, you will see the sand dunes : two immense marine terraces, 30m high! It's a great spot for children as well as joyful adults.
Hiking Around Tadoussac
To really enjoy the small town of Tadoussac and its surroundings, go on a hike! There are many trails available, from a 20-minute loop to a two-days hike. Here is a map of the town with all the restaurants, the shops and the trails.
Festival de la Chanson de Tadoussac
At the end of June, the entire village becomes one large festival site involving eight stages and close to 40 music acts.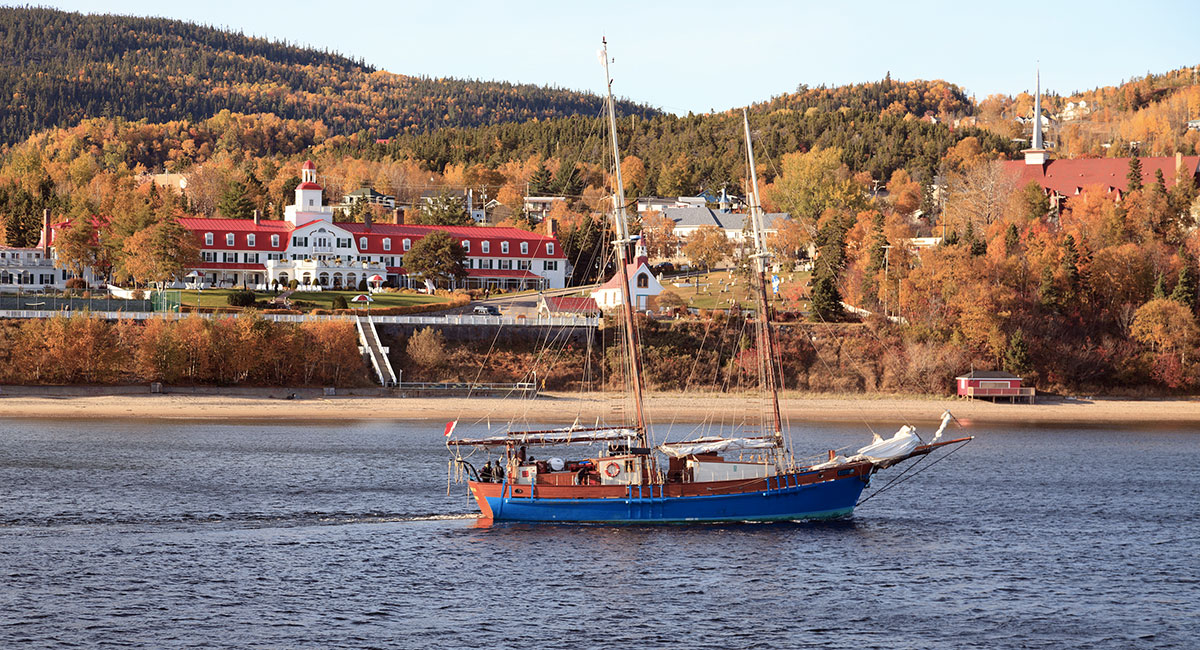 Where to Eat and Sleep in Tadoussac?
This restaurant is a great way to enjoy a quick bite while watching the beautiful view of the St Lawrence River. They serve grilled cheese sandwiches, hamburgers and warm potato chips.
If you want something fancier, go to Chez Mathilde, a beautiful and gourmet restaurant where reservations are recommended. Big breakfasts, bistro lunch menu, gourmet dinners : discover the greatest meat, seafood and vegetables from the area.
Hotels and B&Bs
There are many hotels and bed & breakfasts in Tadoussac. But be sure to book your room in advance, especially during the summer time. You can go to Le Roupillon (each room has its own decor), La Ferme 5 Étoiles (with a swimming pool), or the Auberge La Maison Gagné.
A Quick Guide of the Things to Enjoy Around Tadoussac
The Via Ferrata in Saguenay Fjords National Park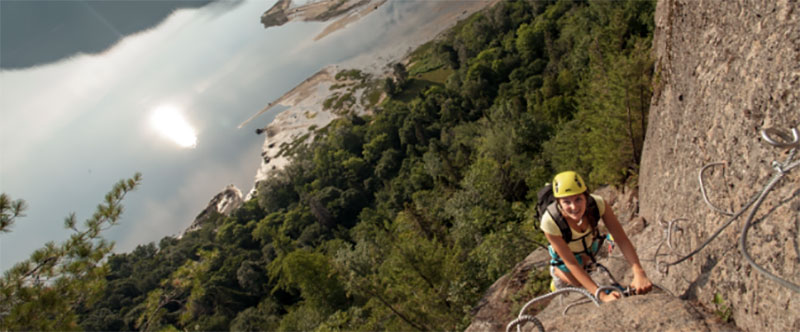 There are many beautiful paths to hike in the Saguenay Fjords National Park, but if you want to live an unforgettable adventure, do the via ferrata! The via ferrata circuit is set on the imposing cliffs of Baie Eternité. There are three circuits to choose from, each one with incredible views of the Saguenay Fjord's bay. Some circuits are harder than the other, but you can go at your own pace since you're with a professional guide.
If you're looking for a unique place to sleep during your holidays, consider these cabins and bubbles in the woods! Available in the spring and in summer, the bubbles are perfect for couples wanting to gaze at the stars before going to sleep. The cabins are perfect for 2 or 4 persons who want to be more comfortable : you even have a terrace.
Casta Fjord
Let's end this trip with a delicious meal and a magnificent view, shall we? At Casta Fjord, near Sacré-Coeur-Saguenay, you will be able to eat in front of l'Anse de la Roche, a beautiful view on the Saguenay River. Soup, pasta with salmon or lobster, nice wines… You will have a great time.
If you're planning a road trip around Quebec, don't dismiss Tadoussac, a beautiful small town near the St Lawrence River. Use this travel guide of Tadoussac to get the most of it.