We're always told that if you want to really learn a language, you have to avoid translating everything word to word. But let's be honest, a good translation app can be very useful for the vocabulary words you forgot or during a trip abroad. Here are the best translation apps for iOS and Android, perfect to feel confident during your future conversations in another language.
Google Translate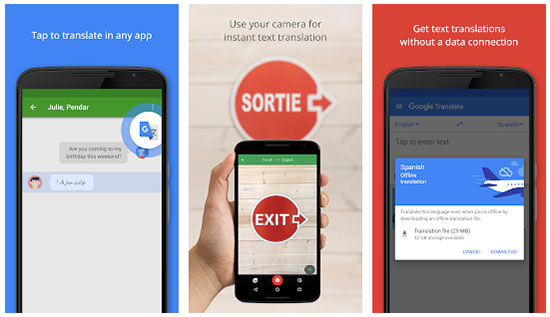 The first translation app that comes to mind is Google Translate, which you can also use on your desktop. It's a very popular application, mostly because it's easy and clear to use, but also because it can support more than 100 languages. It's one of the most efficient translation applications, since it allows you to type a sentence, scan a document, say the thing you want to translate or take a picture of a menu you don't understand. You can also use it with Google Home.
Looking for an app that offers translations for text, voice, conversation, photo and handwriting ? Choose Google Translate. And guess what, it's free!
Download Google Translate for Android or iOS.
iTranslate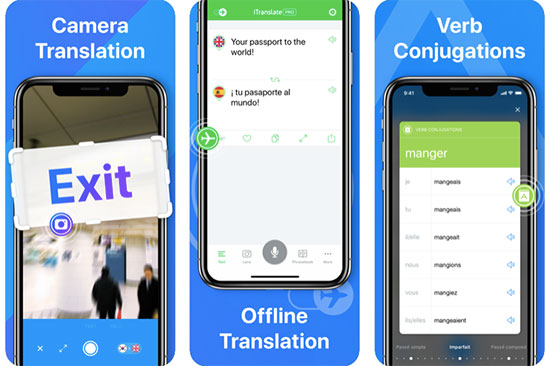 If you want to learn something while translating, this app is a great choice because it contains dictionaries with synonyms and different meanings. After translating a sentence, you'll be able to expand your vocabulary. It also contains a phrasebook with more than 250 sentences to use during your next trip or during a conversation.
If you're willing to invest a little bit in your translation apps, iTranslate has in-app purchases. The pro version allows you to use your camera to translate menus or street signs, has an offline translation mode and offers voice-to-voice conversations translations. You'll also be able to learn verb conjugations in different tenses. This way, you'll keep learning!
Download iTranslate for Android or iOS.
Naver Papago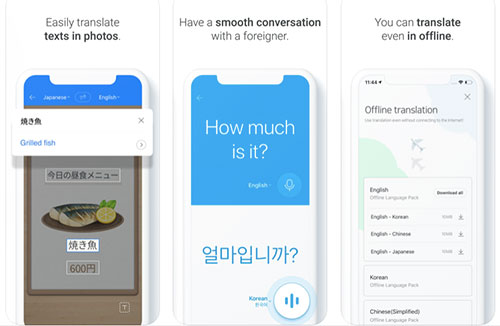 Like many translation apps, Naver Papago offers text translation, image translation, voice translation, conversation translation as well as handwriting translation! So, why is this app different from others? Well, it's supposed to be Asia's most accurate (and popular) translation app. It supports the translation of Korean, English, Japanese, Chinese, Vietnamese, Thai, Indonesian, Russian, Spanish, French, German and Italian.
There's also a phrasebook organized by themes and situations : airport (buying a flight ticket, on board, passport control, etc), travel accommodation, restaurant, tourism…
Download Naver Papago for Android or iOS.
Microsoft Translator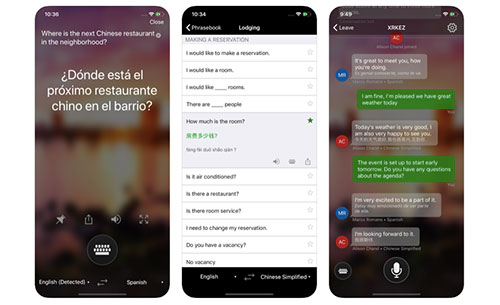 The Microsoft Translator app is often seen as a great contender to the Google Translate one. It might be because Microsoft offers translation for 60 languages for online and offline use. You'll also be able to use camera and voice translation, use phrasebooks to guide you during a trip abroad and look up alternate translations or meanings. When translating a text, you can hear the translation in order to learn how to pronounce it right.
But there is an additional feature that might set Microsoft Translator apart : the multi-person conversation translation feature. You can have conversations with up to 100 people across multiple languages. The translation app automatically translates what your friends are saying in their native languages in order for you to understand everything.
Download Microsoft Translator for Android or iOS.

Reverso Translate and Learn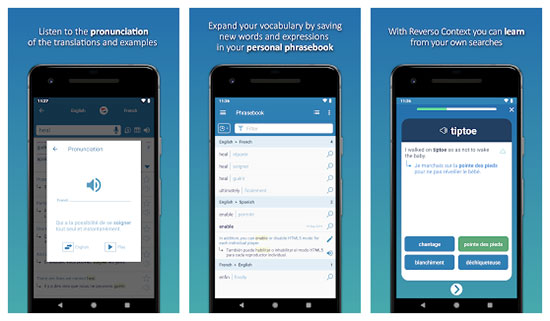 You might already know Reverso through the website, which offers a dictionary, a translation service as well as conjugation, synonyms and grammar tips. On the translation app, you'll be able to translate sentences and listen to the right pronunciation of the words. Even better, you'll see examples for other sentences that can be useful and relevant in other contexts. It allows you to expand your knowledge of a foreign language and find other meaningful ways to express your ideas.
But be aware that the Reverso translation app only offers translation for 14 languages : Spanish, French, Italian, English, Portuguese, German, Polish, Dutch, Arabic, Russian, Romanian, Japanese, Turkish and Hebrew.
Download Reverso for Android or iOS.
Yandex.Translate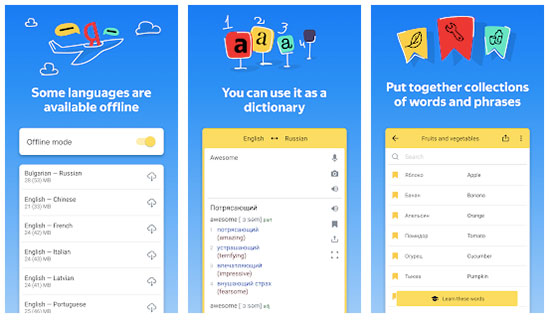 Looking for an alternative to Google Translate? Well, Yandex.Translate is the Russian alternative. Thanks to the app, you can translate around 90 languages when online, and it offers voice and camera translations. There's also a "history" and "favorites" section that are perfect to save some translations.
Like other translation apps, Yadex.Translate doubles as a dictionary app, where you can learn definitions, synonyms and usage examples.
Download Yandex.Translate for Android or iOS.
TripLingo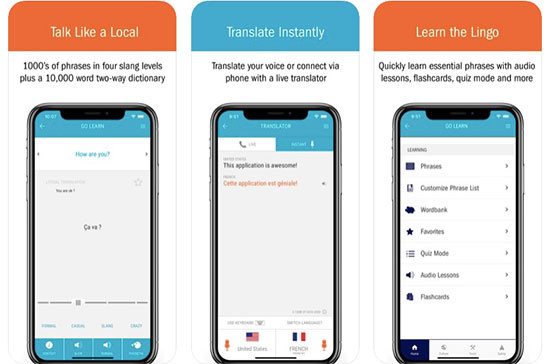 This translation app might be the perfect one for travelers, since it allows you to learn more about the culture and habits of a country, as well as some slang. If you want to learn these essential phrases, you can use audio lessons, flashcards or quizzes. Obviously, they offer instant translation, but if you need a live (real) translator, you can pay extra for a conversation.
Surely, this app goes above and beyond for travelers : it includes a tip calculator & currency converter.
Download TripLingo for Android or iOS.
Even though translation apps might be seen as the easy way out when you want to learn a language, it can be very useful once in a while. Especially since most recent translation apps offer additional features like phrasebooks, alternate translations, slang words, etc. And do you want a fun bonus? Google made an easy online tool to translate… hieroglyphs!