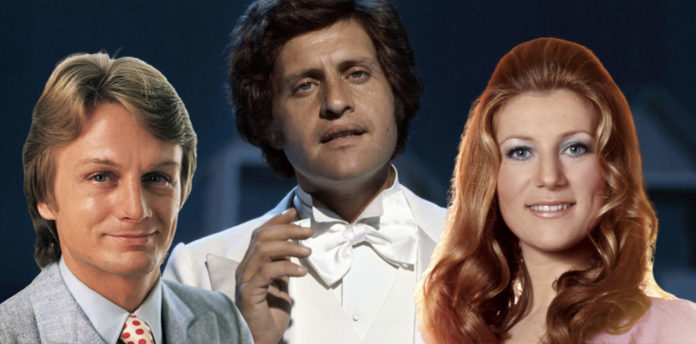 Curious about what French people were listening to in the 1970s? Although the disco area was just around the corner, French artists and French variety were all the hype. Here are some of the most popular French songs from the 1970s. We're sure you've already heard some of the songs from Michel Sardou or Claude François!
Are you a music lover looking for great songs to discover? Or are you actually learning French? When learning a new language, it's always good to surround yourself with the language : videos, songs, TV shows, phone apps… So why not create a playlist with the most popular French songs from the 1970s?
Joe Dassin – C'est la vie, Lily (1970)
Let's begin with a song from the French-American Joe Dassin. Originally, this song called Marie was produced for the group Cat Mother and the All Night Newsboys. Pierre Delanoë adapted it for the French music market and C'est la vie, Lily became one of the hits from Joe Dassin.
Michel Sardou – J'habite en France (1970)
Ready for some controversy? J'habite en France (I live in France) was the last single release from the album, and it was sometimes seen as a provocation in the aftermath of May 68. Some have even described it as a "fascist song". "Mais voilà: j'habite en France, Et la France c'est pas du tout c'qu'on dit. Si les Français se plaignent parfois, C'est pas d'la gueule de bois." Take the time to read the lyrics and decide for yourself : is this song "chauvinistic" in nature?
Sheila – Les Rois mages (1971)
This song isn't really from Sheila : she did a French cover of the song Tweedle Dee, Tweedle Dum from the group Middle of the Road. Still, it's one of her most popular songs! She even recorded it in Spanish. Nowadays, she sings Les Rois mages every time she does a show.
Ringo – Elle, je ne veux qu'elle (1972)
Ringo's real name is Guy Bayle. But did you know that at first, the surname of Ringo was Ringo Willy Cat? When his second album came out, his producer and himself decided to shorten it to Ringo. Elle, je ne veux qu'elle was one of his first success, but you might also have heard about Les Gondoles à Venise. It was a duet he sang with his wife Sheila.
Claude François – Le Lundi au soleil (1973)
Who doesn't know this famous song from Claude François? In this musical hit, he complains about the fact that we always have to work inside when the sky is blue and the sun is shining. Did you realize that?
Michel Sardou – La maladie d'amour (1973)
Many of the most popular French songs from the 1970s are from Michel Sardou. The 70s were a great decade for him, and La Maladie d'amour is the artist's fourth best-selling song! It has sold over a million copies, behind Les Lacs du Connemara (1981), En chantant (1978) and Dix ans plus tôt (1977).
Claude François – Le téléphone pleure (1974)
This song has been inspired by Telephone Call, an American song from George and Tammy and Tina. Except in the American version, the little girl knows that she's talking with her father… Le téléphone pleure is one of the most popular songs from Claude François and it has sold over a million copies.
Dave – Vanina (1975)
Another song, another cover! Vanina is the French adaptation of the song Runaway by Del Shannon (released in 1961) performed by Dave with lyrics by Patrick Loiseau. Don't be surprised if you hear French people sing "Vanina ah ah ah ah ah ah ah ah ah" during a dance party!
Annie Cordy – La Bonne du curé (1975)
You might think that we already said it a lot about these 70s' songs, but La Bonne du curé is one of Annie Cordy's most famous songs. Many French people that don't really know the singer and actress's life still know about La Bonne du curé.
Johnny Hallyday – Derrière l'amour (1976)
Derrière l'amour is a pretty special song… It allowed Johnny Hallyday to reach a wider audience, after having recorded 21 studio albums. It proves that even after being in the music industry for two decades, you can still reach more and more people with our art.
Laurent Voulzy – Rockollection (1977)
There are two versions of this song : one is the short version that played on the radio, and the other one is 11 minutes and 45 seconds long. Why, you ask? Because it alternates between verses in French and verses from popular English songs like A Hard Day's Night by The Beatles, I Get Around by The Beach Boys or even (I Can't Get No) Satisfaction by The Rolling Stones.
Plastic Bertrand – Ça plane pour moi (1978)
Let's talk about Belgian music! Ça plane pour moi is the first song Plastic Bertrand presented as a solo artist after his group separated. And it launched his career! Unfortunately, there has been a lot of controversy about the real interpreter of the song. In 2010, a court report based on a re-recording of the song concluded that the real performer would be Lou Deprijck. It does not affect the status of legal performer, which remains attributed to Plastic Bertrand.
Claude François – Alexandrie Alexandra (1978)
It's the third time we're talking about Claude François in this musical top. But he had to talk about Alexandrie Alexandra, which is the second-biggest sale for his 45 rpm discs. Even if the song was released on the 1977 album Magnolias for Ever, Claude demanded that the single be released on Wednesday 15 March 1978. A weird timing, because sadly it's at this date that his funeral took place.
Francis Cabrel – Je l'aime à mourir (1979)
What a great French song to know for all the lovers out there. Je l'aime à mourir might be the most popular French love songs of all time… At least, it's the biggest success of Francis Cabrel.
How many of these popular French songs from the 1970s do you know? And how many did you discover thanks to this article? These French songs from the 1970s are a great way to add a vintage vibe to your French music playlist, so give it a go!