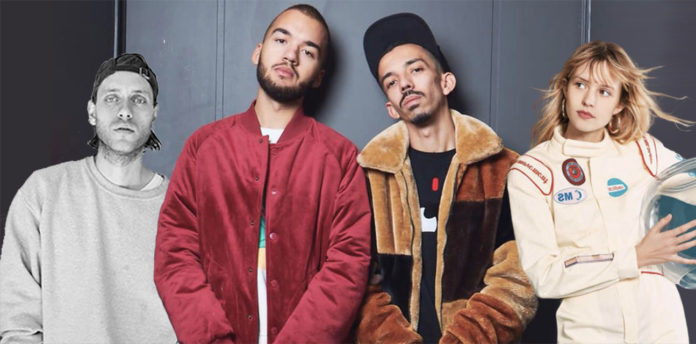 Do you live for music? If your daily playlist helps you through your commute, your work day and your workout, we have the perfect hits for you. Here are 10 francophone music hits from rising talents to help your mind escape while improving your French skills… Listen to these 10 French songs to spice up your playlist in 2019.
1
Angèle, "Tout Oublier" feat. Roméo Elvis
Never heard of Angèle? Trust us, you will. In 2018, this Belgian singer did many music festivals like Les Vieilles Charrues in France, and Les Ardentes in Belgium. You're not convinced she's big enough? Well, she broke Stromae's record and stayed for weeks at the top of the Belgian singles charts with her 2018 single "Tout Oublier", which she sings with her brother, the rapper Roméo Elvis.
With Angèle's lyrics, you'll learn beautiful and complex words, as well as French slang. She mixes it up in beautiful and heady music. If she's on tour near your place, give her a chance!
Here are some of the lyrics from the song "Tout Oublier":
Tout, il faudrait tout oublier
Pour y croire, il faudrait tout oublier
On joue, mais là, j'ai trop joué
Ce bonheur, si je le veux, je l'aurai
N'existe pas sans son contraire, une jeunesse pleine de sentiments
L'ennui est inconditionnel, je peux ressentir le malaise des gens qui dansent
Essaie d'oublier que tu es seul, vieux souvenir comme l'ADSL
Et si tout l'monde t'a délaissé, ça s'est passé après les soldes
Bonus song – "Balance ton quoi"
Angèle is also known for her conscious lyrics and engaged words. The feminist singer released a video clip for her song "Balance ton quoi", in which you can watch French actor Pierre Niney ask dumb questions or the feminist and body positive blogger Metaux Lourds.
Here are some of the engaged lyrics from "Balance ton quoi" :
Ils parlent tous comme des animaux
De toutes les chattes ça parle mal
2018 j'sais pas c'qui t'faut
Mais je suis plus qu'un animal
J'ai vu qu'le rap est à la mode
Et qu'il marche mieux quand il est sale
Bah faudrait p't'être casser les codes
Une fille qui l'ouvre ça serait normal
2
Matthieu Chedid, "Superchérie"
Matthieu Chedid, also known as M, doesn't need any introduction. He's been singing since 1997 and released plenty of hits like "Machistador", "Je dis aime", "Onde sensuelle", or "La Seine". He's well known for his high level of proficiency in the French language. Matthieu Chedid plays with words and will easily trick your ears…
Be sure to read the lyrics of your favorite songs, maybe you'll realise you understood something wrong!
Here are some of the lyrics from the song "Superchérie":
Ma muse m'aimante
M'amuse et me hante
Elle est toujours elle-même c'est bien pour ça que j'l'aime
Superchérie, superchérie superchérie
Tellement addict
Que je suis accro
Accroché à ses ailes
J'suis pas beau
3
Therapie Taxi, "Hit Sale"
Therapie Taxi is a French group composed of three members : Adélaïde Chabannes de Balsac (singer), Raphaël Faget-Zaoui (singer) and Renaud Bizart Vincent. In 2012, Adélaïde posted an ad saying she was looking for another musician to start a band, and Raphaël answered.
The first single that the group released as Therapie Taxi was "Salop(e)". With this title, you might have guessed it: they don't care about being polite… Some music critics are saying that these salacious lyrics are their trademark. If you're not afraid of that, you will enjoy their various hits like "Hit sale", "Cri des loups" and "Avec ta zouz". By the way, "une zouz" is French slang for girl or girlfriend!
Here are some of the lyrics of "Hit sale", featuring Roméo Elvis:
Y a les phrases que tu dis, les phrases de mec facile
Les phrases que j'oublie, bourrée dans la nuit
Et ton corps qui se tord seulement pour me plaire
Mais tu sais moi je mords tes rêves imaginaires
Y a des bugs dans ma tête
Des rêves imaginaires
Y a des bugs dans ma tête
Quand j'écrase ma cigarette