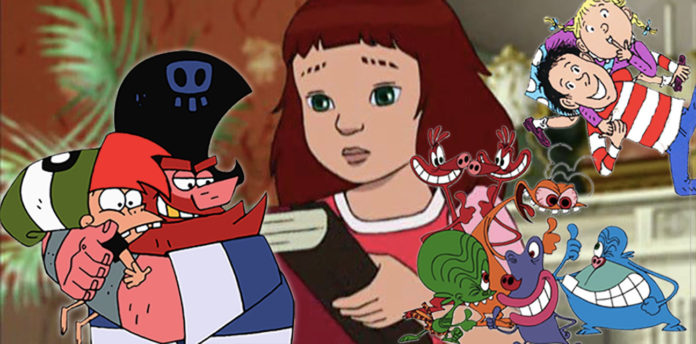 If you were born in the 1980s or 1990s, surely you've been lucky enough to watch amazing cartoons on television. And even though the American and Japanese cartoons were highly popular, French kids also watched many French cartoons. Do you know these French 90s cartoons? Which ones were your favorite?
Popular French 90s Cartoons
Les aventures de Tintin (1991)
Another comic book series turned into a cartoon! After the first adaptation of the comic books in 1957, Les Aventures de Tintin was adapted from 21 Tintin books in 1991 and was the most successful Tintin television series. Tintin is a fearless reporter who explores the world with his dog Milou and his friend Captain Haddock. These stories mix police investigations, spy stories, science fiction and fantasy.
Spirou (1993)
France and Belgium are very famous for their comic books. So it's no surprise that they would adapt Les Aventures de Spirou et Fantasio for television. Spirou is a comic strip character, which was created for the launch of the magazine Le Journal de Spirou. He's a bell-boy who became a reporter while he investigated various stories and mysteries. His sidekicks, Fantasio and a squirrel named Spip, have a good sense of humor.
Albert le cinquième mousquetaire (1994)
What if there were more than four Musketeers in the Alexandre Dumas books? This French-Canadian animated series is based on the story of the Three Musketeers and centres around Albert de Parmagnan, the fictional fifth Musketeer. Since he's smarter than his friends, Albert is always the one who creates inventions to get the others out of trouble.
L'Histoire sans fin (1995)
Are you a fan of fantasy stories? L'Histoire sans fin is an animated television series loosely based on Michael Ende's book, The Neverending Story (1979). It tells the story of Bastien, a young boy who is able to travel inside his book to live various fantastic adventures.
Les Zinzins de l'espace (1997)
Do you remember Candy H. Caramella, Etno Polino, Stereo Monovici, Bud Budiovitch and Gorgious Klatoo? These 5 extraterrestrials are from the fictitious planet Zigma B. They crashed on Earth after hitting up an asteroid in space, and decided to hide in the attic of a house on rent. They need to use a special machine to transform themselves and chase away the people who try to live in the house.
Princesse Sissi (1997)
When history inspires stories… Princesse Sissi is based on the life of the empress of Austria Elisabeth of Bavaria, nicknamed "Sissi". After meeting the charming Prince Franz, he and Sissi decide to get engaged. But soon, she has to deal with many jealous enemies and get used to the royal protocol.
Les malheurs de Sophie (1998)
Which kid has never thought about doing the same silly things as the young Sophie? Many French 90s cartoons are inspired by comic books. But this French cartoon is based on the books written by the Countess of Ségur. Even though the cartoon is quite cruel and sad (Sophie lost her mom and has to deal with an evil stepmom), we mostly remember the funny mistakes that Sophie does daily, like cutting her lashes.
Tom-Tom et Nana (1998)
What happens when two young children have plenty of time without being supervised by parents? Well, they go on adventures and they make the neighbours laugh. Originally, Tom-Tom et Nana is a French comic book series created by Jacqueline Cohen and Bernadette Després. It shows the daily life of the Dubouchon family, whose parents have a restaurant called À la bonne fourchette. Since they are very busy, the two siblings have time to explore and clumsily try to help their parents.
Famille Pirate (1998)
On Turtle Island live the MacBernik family, a family of pirates. The father, Victor, isn't a really talented pirate and is envious of his neighbor, Irvin lerequin. Victor has a wife (Lucile) and two kids, Scampi and Bigorneau, who go to school in order to become pirates themselves… Between their daily life and their job as pirates, the family isn't short of funny stories.
Papyrus (1998)
Inspired by the comics by Lucien De Gieter, Papyrus tells the story of a young boy, who has a very important mission : to find a magical door in order to save Horus and bring back peace in Egypt.
> If you like kids cartoons or if your children want to watch some French cartoons, check out our article about the best French cartoons to watch on Netflix!
Which ones of these French 90s cartoons have you seen? And which ones would you watch again out of nostalgia? Obviously, 90s kids also watched American cartoons, but we're here to learn French, right? So watching French 90s cartoons might be a good way to improve your oral comprehension. Give it a try!