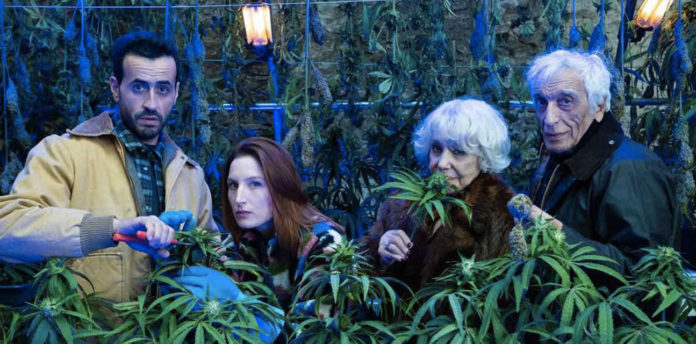 Tired of watching some reruns or basic comedies on TV? You might want to look into Netflix international catalogue, in particular the French movies and TV shows! In addition to watching something new, you might be able to learn some French vocabulary or even improve your French language skills. Here are 14 French shows and movies you'll be able to watch on Netflix.
Family Business
Some people are born-entrepreneurs, while others… try. After learning France is about to legalize pot, a down-on-his-luck entrepreneur and his family race to turn their butcher shop into a marijuana café. But is it really a good idea? Watch out for this crazy and unapologetic show!
Christmas Flow
She's a feminist journalist, he's a rapper who had trouble with one of his sexist songs. But it's Christmas, so obviously, a romance might blossom between the two of them. Can they make it work despite their differences? It's the perfect Christmas movie if you want something light and sweet, starring young upcoming French actors.
Lupin
(Almost) everyone knows about Lupin, the famous gentleman thief invented by the French writer Maurice Leblanc. But what about Assane, who is the biggest Lupin fan and a very clever thief? Looking to avenge his late father, Assane will embark on a thrilling but dangerous adventure.
C'est quoi cette famille ?
Bastien has six half-siblings and eight "parents", which explains his complicated timetable to know where he and his siblings are sleeping. Being fed up, the children decide to move into Elliot's grandmother's apartment, where the parents will take turns looking after them.
8 rue de l'Humanité
What did you do during the first COVID-19 lockdown? In this French movie starring Dany Boon (Les Ch'tis), seven families decided to remain in their building, at 8 rue de l'Humanité in the 11th arrondissement of Paris. But what happens when a bistro owner, an ambitious scientist, a hypochondriac, a sports coach and a pregnant woman stay stuck together?
Braqueurs
Braqueurs: la série is a French television series based on the film of the same name released in 2015. When two escort girls steal drugs instead of cash money, they don't realize they are in serious trouble. But when one of them is abducted, her uncle is forced to rob a warehouse full of drugs in order to save her.
Disparu à Jamais
If you read some of Harlan Coben's books, you might recognize his well-known style… A young girl killed during the hero's childhood, a missing wife who's hiding many secrets, and a guy trying to understand it all. How does it all connect?
Zone Blanche
Do you know what a "zone blanche" is? It translates to "white area" but it refers to a dead zone where no communication and cellular waves are available. The English title has been translated to Black Spot. In this French-Belgian television supernatural thriller, prosecutor Franck Siriani arrives in Villefranche to learn why the town's murder rate is six times the national average.
Astérix : Le Secret de la Potion Magique
Most people know Astérix and Obélix, the fictional characters created by René Goscinny and Albert Uderzo. In this new adventure, Getafix (Panoramix in the French version) realizes that if something happens to him, his friends won't be able to cook the famous magic potion. With help from Astérix and Obélix, he decides to seek a successor. It's a great animated movie for children who want to learn French.
Miraculous : Les Aventures de Ladybug et Chat Noir
Miraculous: Les Aventures de Ladybug et Chat Noir is a French-Korean-Japanese animated television series in which a 14-year-old girl named Marinette, and a 14-year-old boy named Adrien can transform into Ladybug and Black Cat, a duo of superheroes protecting Paris from super-villains.
Menteur
We presented some Belgian movies. But what about a Quebec movie? In Menteur, we meet Simon, who is a compulsive liar. His family is so fed up with all his lies that they decide to organize an intervention to make him stop. But Simon refuses to face the truth… until one morning he wakes up and realizes that all his lies have become reality.
Il a déjà tes yeux
Paul, who is from Martinique, and Sali, who is from Senegal, want to adopt a baby. They end up taking care of a white 4-month baby. The social worker is very reluctant about this unusual adoption, but the local director of the ASE thinks that everything should go well. But very quickly, the parents come up against suspicions and preconceptions.
Comment je suis devenu super-héros
Looking for a superhero movie? It's not Marvel, but it's pretty great nonetheless. The movie takes place in Paris in 2020, in a reality where superhumans are now perfectly integrated into society. Lieutenant Moreau is in charge of investigating incidents caused by a mysterious substance that gives superpowers to those who didn't have them. But the investigation gets tricky when Moreau's past resurfaces.
10% (Call My Agent)
Ever wonder what daily life is like in a talent agency? Well, Andréa, Mathias, Gabriel, and Arlette will take you on a funny and wild ride. While struggling to save their agency after the sudden death of its founder, the four agents take us behind the scenes of the world of celebrity, where laughter, emotion, transgression and tears constantly collide. There are 4 seasons on Netflix but a fifth season will be released soon.
Je ne suis pas un homme facile
Damien is a shameless chauvinist who has all the benefits of living in a patriarchal society. After a bump to the head, Damien passes out. When he wakes up, he finds himself in an alternate universe where gender roles are reversed and women have all the power. But now that he experiences sexism, he struggles to find his place in this foreign new world. Especially when trying to seduce Alexandra, an influential novelist who is herself a chauvinist.
With this list, you should now be able to find a nice French movie or French TV show to binge watch on Netflix! You'll see, it's a great way to enjoy yourself while learning some new French vocabulary. It will also allow you to learn more about some French expressions. After all, French people don't talk exactly like in French exercise books. And if you're into romantic comedies, here is our list of French romantic movies to watch on Netflix.
Looking for something for your kids? Here are some great kids cartoons to watch on Netflix.