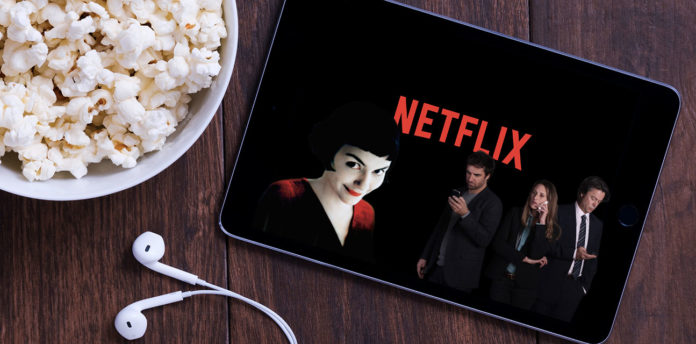 Learning French can be overwhelming or become boring. If you want to add some fun to your language studies, go to Netflix and watch some French movies. With or without subtitles, it's the perfect way to work on your oral comprehension. Learn French with Netflix thanks to these great French movies and TV shows.
All you have to do is open your television, or open the app on your laptop, tablet or phone and pick one of the movies available. Since you have an (almost) unlimited films you can watch, you can (often) feel overwhelmed and spend ten minutes arguing about which movie you will choose. So here is our pick… Here are 7 French movies and TV shows to learn French with Netflix Canada, as of February 2020.
French Movies to Watch on Netflix
Il a déjà tes yeux
Paul and Sali Aloka are a married couple who tried to get pregnant for a long time. They turn to adoption, only to realize it will be a struggle as well. Finally, they receive a call for a 4-month-old baby boy, Benjamin. The only problem is that the baby is white… And the racist social worker will do anything to stop Paul and Sali from adopting Benjamin.
If you like this movie, you should know that it was adapted as a TV show! The six episodes show how the family is doing, years later, when Benjamin is in secondary school.
Mauvaises graines
Do you know any French stand-up comedians? Kheiron is one of them, but he's also a film director. He directed and starred in Mauvaises graines (Bad Seeds in English version), which tells the story of Waël, a con man whose life is changed when he is forced to work as a mentor for a group of teenagers. These teens, who face expulsion from school, don't really trust teachers anymore…
Le chant du loup
The synopsis of this movie might seem boring at first. A film about a guy who has a great hearing? Weird. But trust us, you'll be entertained. After making a terrible mistake during a mission, a submarine's sonar officer named Chanteraide (François Civil) tries to redeem himself. He has to use his brilliant sense of hearing to track down a French ballistic missile submarine and end the threat of nuclear war.
It's a great movie to learn more about the life aboard a submarine and to hear some specific marine vocabulary.
Bienvenue à Marly-Gomont
Do you know the French rapper Kamini? In 2006, he released a humorous single called Marly-Gomont, in which he talks about his daily life in a small town of Picardie. Thanks to this musical hit, he became famous and was able to write and direct a movie about his father's life. His father, Seyolo, graduated from a French medical school, and instead of accepting a job in Zaire (his hometown), he decided to become a doctor in a small town in the North of France. He brings his family with him, only to realize it will be difficult to be accepted as the only black family around…
French TV Shows to Watch on Netflix
Dix Pour Cent
You like the movie scene, but you've always wondered what was going on behind the scenes? In Dix Pour Cent (Call My Agent in English version), you learn more about the daily life of a celebrity agent. At ASK, talent agents have to struggle between industry scandals and personal situations while trying to live their life.
This show is really funny, but what makes it different from any other one, is that each episode focuses on one or two real celebrities who play themselves! You'll see Cécile de France, Gilles Lellouche, Audrey Fleurot, Joeystarr, Virginie Efira, Ramzy Bedia, Julien Doré, the Youtuber Norman Thavaud, Jean Dujardin, Monica Bellucci and more… It's a good way to learn French with Netflix while discovering new French actors and actresses.
Marianne
Emma, a young novelist, meets an old school friend during a book signing session. Soon, she realizes that the characters she writes in her horror novels exist also in the real world.
If you're a fan of horror movies, here's the perfect way to learn French with Netflix! Marianne is the first French horror TV show released on Netflix. Even though there is only one season available (the series was canceled in January 2020), the eight episodes are suspenseful enough to keep you on edge.
Mortel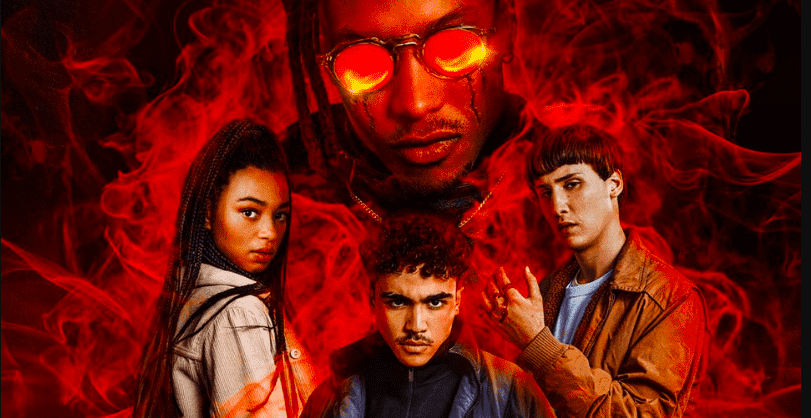 When his big brother disappears, Sofiane decides to do everything he can to find him. Even if it means accepting weird supernatural powers from a voodoo god and bringing a shy student (Victor) along for the ride…
Young teens willing to learn French might like this show better. And since it happens in a suburban high school, you'll learn some French slang and expressions.
Add some fun to your language learning : learn French with Netflix! It's not a miracle solution, but it will help you work on your oral comprehension and pronunciation. And we're sure you'll learn some new vocabulary. Keep in mind that Netflix uploads (or cancels) new movies every month. These movies might be gone by the time you decide to watch them. Fortunately, there are plenty of other French movies to pick from.