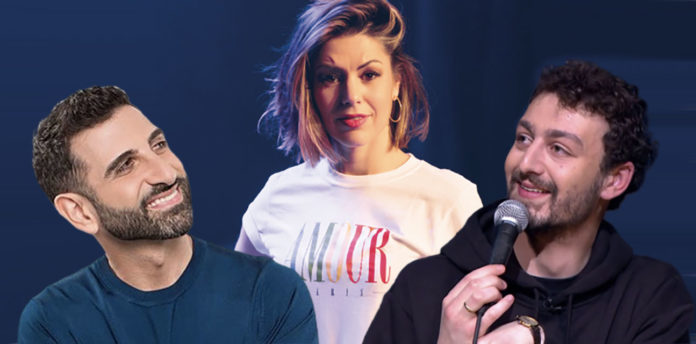 Do you need to take a break from your language studies? When learning a new language, it's good to vary your learning resources and have fun between lessons. If you're learning French, here are some videos from French stand-up comedians to watch on Youtube. This way, you'll laugh while learning new words and expressions.
Combine study and pleasure while learning French! Online, there are many useful resources to learn French. And one of these learning resources is Youtube. Yes, this video platform can be a powerful tool in your learning journey. Looking for the pronunciation of the word? Ask Youtube. Looking for a few sentences to learn how to introduce yourself? Youtube can help.
French Stand-Up Comedians to Watch on Youtube
What about short and funny videos to watch between two French lessons? Here are a few French stand-up comedians to watch on Youtube. Some of them release short videos every week, while others release short clips of their main show.
Naïm
You might have seen this French Algerian comedian in On n'demande qu'à en rire, a French TV show presented by Laurent Ruquier. From 2010 to 2014, he often appeared in the show, alone or with other comedians. Thanks to his newly earned fame, he showcased a few shows on stage: Impeccable, (Déjà ?) and Le roi des enc. After a little break, he came back in 2018 with a new show Naïm, and with Libre-Pensée in 2019. His humor is quite audacious, corrosive and impertinent.
During containment due to COVID-19, he posted various short videos about life at home, in a lockdown. He reacted to the daily news as well as to the challenge of being home with kids.
Verino
Just like Naïm, Verino has been doing stand-up for a long time now, since its first show was in 2009. But it feels like his fame really took off thanks to a brilliant concept: Dis Donc Internet. After some of his shows with an audience, he records a short video talking about the news. Then, he puts this funny bit (with some improvisation) on Youtube, where everyone he's free to watch it. Of course, it became very popular and more and more fans are hoping to see Verino live and being in one of these "after-show" videos.
Laurie Peret
Did you know that Laurie Peret started her career as a singer and dancer in a musical? She was the understudy for the role of Constance Weber in Mozart, l'opéra rock. In 2017, she was the first act for some of Naïm's shows, and for Bun Hay Mean in 2018. Then, she wrote her own show, Spectacle alimentaire en attendant la pension. You'll love her work if you like dark and raw humor, as well as feminist subjects.
Roman Frayssinet
After graduating from high school, Roman went to Montreal to study screenwriting. While in Montreal, he met Uncle Fofi and was able to do a few shows, before becoming a student at L'École nationale de l'humour. So it's no surprise that he did so many first acts for Quebec comedians like Sugar Sammy and François Bellefeuille. In France, Kyan Khojandi first noticed him, as well as other French stand-up comedians with whom he filmed some videos. Since 2018, he has been a part of the daily show Clique, on Canal+.
Camille Lellouche
After being noticed by a director while working in a Parisian brasserie, Camille Lellouche got her first film role in the movie Grand Central. Alongside her film roles, she began making funny videos on Youtube. In 2015, she's on season 4 of The Voice, where she makes it to the semi-finals. Singer, actress, comedian : she can do it all!
Kheiron
Well, we have to admit that Kheiron isn't really a new face of humor in France. In 2007, he wrote for the French television (in T'empêches tout le monde de dormir) and played his first show, in which he used stand-up techniques, slam and rap. Since then, he directed several movies and played his improvisation show for more than 18 months at L'Européen in Paris. So why are we including him in this list? Because since 2019, he has been uploading parts of his shows on Youtube, following in the footsteps of many "modern" comedians.
Hakim et Fadily
Maybe you've known Hakim since Le Woop in 2014! Nowadays, Hakim creates funny videos with his wife Fadily for the French television: you should watch them on Clique, on Canal+. During the COVID-19 crisis, they film daily videos from home.
It looks like you won't be out of funny content to watch in order to learn French! Between two online courses, don't forget to relax with some videos. And one day, you might even be able to go watch some of these French stand-up comedians live, and understand all of their jokes.