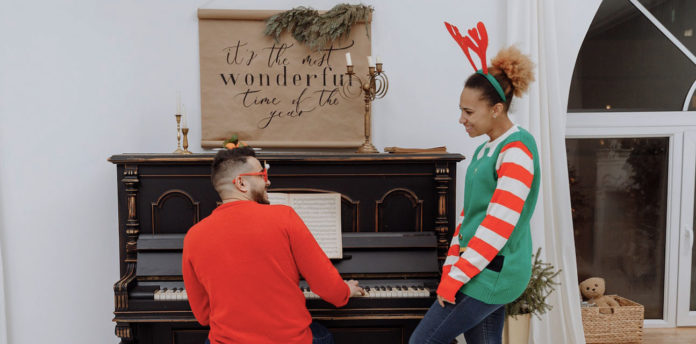 Are you tired of all the classic Christmas songs we keep hearing every year? Let's try something different and listen to some Christmas songs from France, Belgium and Québec. Some are classic hits, while others are more modern. What are your favorites?
Christmas songs from France, Belgium and Québec
Noël Blanc, Tino Rossi
This French singer and film actor of Corsican origin recorded plenty of Christmas songs, like Noël Blanc or Petit Papa Noël, that sold over 30 million copies worldwide.
Petit Papa Noël, Dalida
Dalida was an Italian-French singer born in Egypt. She sang in eleven languages and sold millions of records internationally, so it's no surprise that she sang a few Christmas songs.
Noël à Paris, Charles Aznavour
Most Christmas songs are about happy people playing in the now or waiting for their gifts. Well, singer Charles Aznavour wrote about spending Christmas in rainy Paris…
"C'est Noël chéri
Et nous voici réunis
Dans Paris tout gris
Tout maussade et tout contrit
Sans neige et sous la pluie…"
Les Cloches du Hameau, Céline Dion
In October 1998, the singer released a Christmas album with mostly English songs. But there is one song in French: Les Cloches du Hameau. Fun fact: in 1981, she released a Christmas album with 10 songs in French. Céline Dion chante Noël is the rarest of the singer's original albums. It was distributed exclusively in Quebec and no single was released from it.
Parfait Noël, Coeur de Pirate
If you listen closely to the lyrics, you'll realize Coeur de Pirate is singing about a Christmas break-up!
Noël c'est toi, Florence K
Florence K, is a pop singer and songwriter from Quebec, who performs in English, French, Italian, Spanish and Portuguese. (In case you didn't know, we love polyglot artists.)
Vive le Vent, Mika pour Michel Legrand
Michel Legrand reunited various French singers for this Christmas album, but we decided to talk about the song with Mika, born in Beirut, and raised in Paris and London.
Le Noël de la rue, Axelle Red
Axelle red is a Belgian singer, best known for her 1993 single Sensualité. In 2022, she released The Christmas Album, with one song in French: Le Noël De La Rue.
So, what do you think about this playlist of Christmas songs from France, Belgium and Québec? It's nice to hear something new and different, right? If you liked it, don't forget to read our other article about French Christmas songs.