4
La Leçon (Eugène Ionesco)
Eugène Ionesco is a Franco-Romanian playwright and is known as one of the most important figures of French avant-garde theatre and theatre of the absurd. Theatre of the absurd is plays of absurdist fiction centralized on the idea of existentialism. These playwrights wanted to explore what it would be like if human existence had no more meaning or purpose. The story depicts a professor who is waiting for his new pupil to come to his home. While he waits for her, the professor's maid worries about his health. Once the pupil arrives, the professor gets angrier and angrier as time goes by because of his pupil's ignorance. The young pupil is so uncomfortable and scared that her small toothache makes her completely ill. The professor murders the pupil which is a great example of using non-sequiturs since it is so absurd. The play ends and the maid is ushering in a new pupil in the professor's house.
5
Le Dieu du carnage (Yasmina Reza)
French plays aren't always old classics. This play is quite recent, having been only created in 2008. Yasmina Reza is not only a playwright but also an actress, a novelist and a screenwriter. She enjoys writing plays about contemporary middle-class issues that many people are familiar with. Her play Le Dieu du carnage is about two sets of parents that meet at one of their houses to discuss what happened in the park with their kids. One of the children hurt the other because he doesn't want the other child to join his group of friends so the parents decide to have a civilized conversation about how they feel. Unfortunately, the conversation does not go as planned and it quickly degenerates making the parents act like children themselves. The conversation diverges and they start arguing about misogyny, racial prejudice and homophobia.  
6
La Trilogie des dragons (Robert Lepage)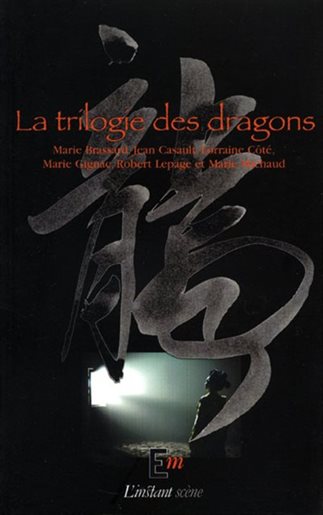 Robert Lepage's La Trilogie des dragons was created in 1987. Robert Lepage is a very well-known Quebec playwright and has won many awards for his plays. La Trilogie des dragons is a 6-hour play divided into three tableaux and is considered to be a poetic saga. The saga goes through the 20th century, from 1932 to 1985 in three Chinatowns: the first is in Quebec City (green dragon), the second is in Toronto (red dragon) and the third is in Vancouver (white dragon). All throughout the play, mythical components of Chinese culture like Chinese laundries, Chinese food, the yin and yang, tai chi, etc. are presented.